Submitted by DUCATI_JAY on Fri, 01/21/2011 - 02:17
Picture: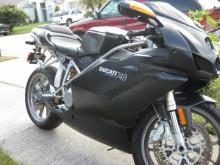 Date of Birth:
Wednesday, September 1, 1976
Address:
Pinellas Park
,
FL
United States
Florida US
About Me:
I live in the Tampa Bay area. I am single, 34, 6'5" and have posted a picture of my ride which is a motorcycle but considered the Ferrari of superbikes, just if you were wondering WTF. I am easy going, laid back, non-smoker, straight and enjoy good company and making new friends. Lets ride out!!!